Episode #109: My Unfiltered Thoughts on the FACTS and STATISTICS of Weight Loss, Body Image and Disordered Eating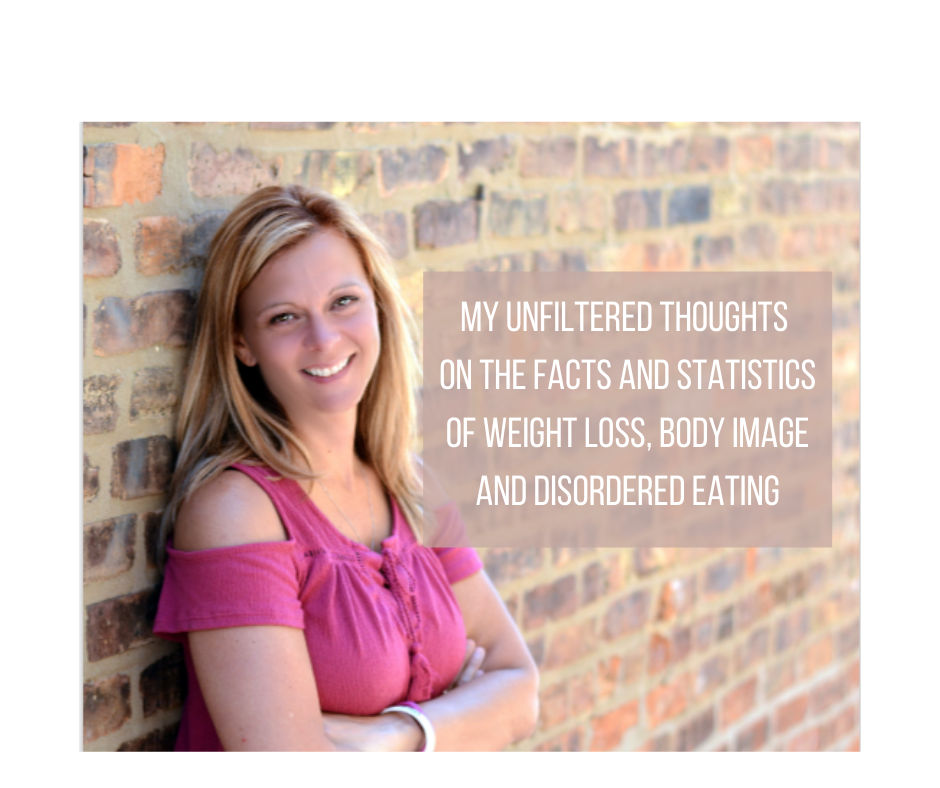 We may earn money or products from the companies mentioned in this post.
Have you ever stopped to look at the actual facts and statistics of the damage dieting is causing us?
No worries, I got ya right here in this episode. I can tell you that these statistics are astounding. I can alos tell you that I am bring my complete, raw and unfiltered thoughts on it all so there WILL be TRUTHBOMBS and F-BOMBS dropped!
Here are just a few that I will be discussing and giving my unfiltered thoughts on.
95% of diets fail and most will regain their lost weight in 1-5 years
75% of American women surveyed endorse unhealthy thoughts, feelings or behaviors related to food or their bodies
91% of women recently surveyed on a college campus had attempted to control their weight through dieting, 22% dieted "often" or "always"
Almost half of American children between 1st – 3rd grade want to be thinner and half of 9 – 10 year old girls are dieting
35% of "occasional dieters" progress into pathological dieting, (disordered eating) and as many as 25%, advance to full-blown eating disorders
At least 10 million females and 1 million males are fighting a life and death battle with an eating disorder and million more are struggling with binge eating disorder
Eating disorders are among the TOP DEADLIEST mental disorder
I'm not sure how THIS is not out there in the public eye! Instead, we have these multi-million dollar companies jamming the next quick fix down our throats telling us we will be thin, lean, sexy and healthy if we do their magic program.
If you're one of the 45 (PLUS) million Americans that plan to go on a diet in the new year…I've got one word for you…DON'T.
Listen To this podcast and let the reality of these statistics sink in. Don't be a statistic!!
The following two tabs change content below.
Hey there, I'm Melanie. I help women DITCH THE DIET MENTALITY and reclaim their health through mindful eating, hormone balancing, stress management, and digestive healing.
Latest posts by Melanie Sobocinski (see all)